Truck convoys: People around in the 1970s might remember them along with leisure suits, shag carpets and eight-track cassette players during a brief spotlight for the trucking business via movies and the CB radio fad.

But groups of trucks traveling together are making a 21st century comeback using much more sophisticated technology.

Trucking companies are calling it "platooning." The idea is to group long-haul trucks into sections of at least two vehicles, improving fuel economy for both — attributable to decreased resistance for the trailing unit from lower air pressure that also creates a modest gas mileage boost for the leading one.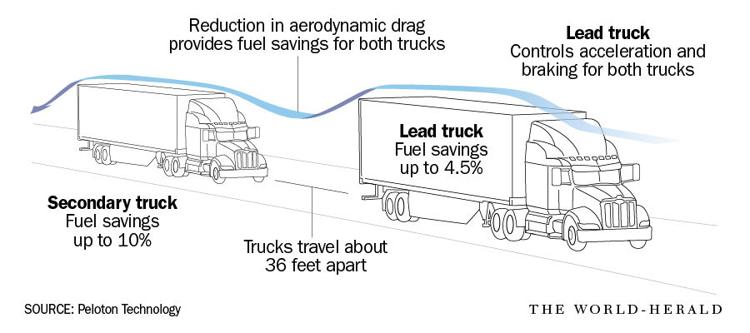 Theoretically, an unlimited number of trucks could be so grouped, linked digitally by forward-looking radars and automatic braking systems that apply whatever maneuvers are made by the lead driver to all trailing vehicles. Some people are even saying drivers in trailing vehicles could catch up on rest as required by road safety regulations.

"The technology purports to generate fuel savings in the 10 percent range," said Larry Gross, a transportation industry analyst for Gross Transportation Consulting. "I think you will see some large carriers using it next year."

So far, Nebraska's major truckers are taking a wait-and-see attitude.

Omaha-based Werner Enterprises, one of the nation's largest trucking companies with about 7,000 vehicles, says it has been following developments in the past nine months or so. "We are open to testing it out," said Chad Dittberner, an executive vice president at Werner.There are plenty of opportunities to do so, with many major truck-industry suppliers jumping in with the equipment and software required to digitally tether two or more trucks.

Market participants include a California-based company called Peloton, which specializes in vehicle automation technology; truck and auto maker Daimler; and many others well known in the business such as Navistar and Cummins.

One novel aspect is that a truck from Company A going solo could hook up with a truck from Company B that is also without a partner using an electronic invitation broadcast over the highways, byways, truck stops and roadside cafes. If the matchmaking succeeds, the participating trucks digitally talk to each other to coordinate a range of aspects such as horsepower, torque, braking force and vehicle weight.

But matchmaking is still tough. To be worth it, a lot of ducks have to line up in row, Dittberner said, such as destinations, routes and the other variables that make up a freight truck's itinerary.

"There are suggestions that a very high percentage would apply, but I would say 50 percent would be an aggressive target," Dittberner said. The percentage would drop even lower if the concept were applied only to one trucking firm's own vehicles, he said.

Wirelessly connected trucks made their European debut in April. Manufacturers of the platooning technology systems say convoys could be on American roads within a year.

At Fremont Contract Carrier, President Tim McCormick said the technology has promise, and might be an early indicator of how successful autonomous-driving trucks will be.

"But we are not currently using this method and will wait for it to become more mature before we start investigating," McCormick said of tandem trucking. "I believe the technology would help with fuel economy, but I believe driver acceptance will not be widespread."

Lincoln-based Crete Carrier is also not using platooning, said Chief Executive Tonn Ostergard.

"The technology, while it exists, I would categorize it as still emerging," Ostergard said. "At this point we really are not exploring deploying its use."

Ostergard said he can also envision public relations problems.
"I think there could be some concern of the general public, if not just perception, as they see and interact with a convoy of platooned trucks," Ostergard said. "Operationally, this would require assembling the platoon of trucks all at the same origin, going the same direction on a similar schedule and for a long enough segment that provides value for the cost of organizing and deploying the platoon."

Ostergard said he doesn't "doubt the technology will work, albeit in a relative small portion of the business."

Gross, the transportation industry consultant, agrees that platooning might be an interim step between what we have now and autonomous vehicles, or high-tech trucks with many automated navigation, steering and safety systems and an overseer who is more akin to a pilot than a driver.

"It is a gateway technology," Gross said. "Remember, we have the world's most efficient logistics system, and the reason is because business is always looking to do the job better."
Written by: Russell Hubbard